COURSES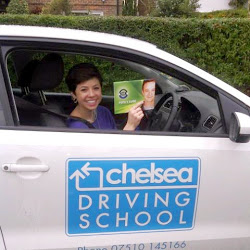 Chelsea Driving School will design and tailor your driving lessons to what you want or need to get out of your driving education.
Whether you are a complete beginner and want help with learning about everything you need to know to ensure you spend a lifetime driving in the correct and safest manner possible, or are an experienced driver looking to simply pass as soon as possible the practical UK driving test we are experts in designing a bespoke set of lessons to suit you.
The most common question we are asked at the outset by new pupils is 'how long will it take me to pass the test' or 'how many lessons will I need?'.
Your instructor will, during your first lesson, make an assessment of your driving and be able to give you a better idea of where he or she thinks you are at and how many lessons you may roughly need to achieve what you want, but the truth is that everyone is different and everyone needs as much time or as many lessons as is necessary!
Many factors will come into play including of course how much practice you are able to do outside of lessons with your instructor in your own car bracket . What we promise however is that your lessons will be specifically designed around you and your needs to get you to where you want to be when you want to get there and we will be there for you every step of the way!
UK FAMILIARISATION COURSE
This course is either half/full day designed by 'our trainers'. It covers the following OR it can be tailored to suit your needs and is for people with an active Overseas Licence.
The law
Defensive driving techniques
Advanced driving techniques
Risk management
Town driving-Motorway-Dual carriageways-Country lanes
Please note that this course can be for a company or an individual. Your trainer will provide you with a report at the end.
We also specialise in refresher lessons for full UK licence holders who are looking to gain more confidence on the road or brush up on their driving skills.
INTENSIVE COURSES
Subject to availability due to a high demand.
Manual or automatic.
This is between a two to four week course depending on experience. Please call to discuss and arrange.
PASS PLUS COURSE
By choosing the pass plus scheme, you have chosen that you wish to develop the attitudes and skills that are essential for 'safe driving for life'.
Pupils who take this course, after the practical test, have less accidents in the first two years
It's benefits are:
Enabling you to gain quality driving experience safely, that you may not have already covered, such as motorways and country lanes
Helping you become a more skilful driver
Teaching you how to develop a positive driving style which is both enjoyable and safe
Reducing your risk of being involved in a road incident
Saving you money on your car insurance premium*
*Subject to status. Participating insurance companies can be found online at www.gov.uk/pass-plus

This course is taken with an Instructor and there is no test at the end. Instead you will be assessed throughout.
The minimum time requirement for this course is 6 hours and can be done in 2 or 3 hour slots.
The Syllabus:
Introduction
Town driving
All-weather driving
Out of town driving and rural roads
Night driving
Dual carriageways
Motorways